Searching for Sarah
(
The Sarah Series
#1)
Julieann Dove
Adult Contemporary Romance
Paperback & ebook, 333 pages
April 27th 2017
The first in a three book series called Searching for Sarah. Come meet Sarah and begin her journey....
Sarah Keller is convinced that her Mr. Right is stuck in traffic…in another country…on another planet. 'Thirty-one and still single' isn't how she wants to be introduced by her dad. That's why she's on five dating websites, posing as anything from an avid gardener to a crazed thrill seeker.
Sam Turner is a single dad, workaholic, who owns his own company. Long-term relationships have never worked out for him. That's why he needs a nanny.
When a mutual friend suggests Sarah take the job temporarily, everything changes for them both. Sarah begins falling for the man who meets almost none of her online criteria. And when strange things start happening—things that jeopardize the safety of Sarah, Sam is the last person she would imagine is hiding something.
Goodreads│Amazon│Barnes & Noble
Excerpt:
"Yes, Mary. This is Patrick at the front. There is a Ms. Sarah Keller here to see Mr. Turner. Should I send her up?"
I looked around at the place. This was where Sam worked—or rather, owned? The name on the sign outside actually did say something Turner or other. But oh my gosh, this place was a museum. Multi-colored marble with shiny specks, white columns you'd see in some sort of Parthenon on encyclopedia pages, and heavy wood trim on all the little door openings—make that big door openings. Huge door openings, ones you could easily squeeze twin elephants through at the same time. It was a place to see on a field trip, not to come to work.
"She's sending someone to come and take you to Mr. Turner," said the guy, in his blue suit and striped tie, at the front desk.
I nodded and smiled. Sam texted me his address and told me to come by after lunch. Maybe he waited for me at breakfast, and figured he'd bait me out of my room one way or another. Who knows—maybe he wanted to fire me for not getting back to him on the whole "can we try this thing out." And the workplace was neutral enough to do it here.
"Patrick where is she? Did she leave? I had to stop at the restroom for all of thirty seconds. Oh my gosh, she left."
I turned to see a girl, almost out of breath, pulling at the neckline of her blue cardigan set. Her pants were gray—the crease on the front of them looked like a traffic line. She wore a matching hair ribbon, the color of her cardigan set. Patrick nodded toward me. She turned three shades of red. It was progressive, starting as a light pink and ending in stoplight, apple red.
"I'm so sorry. Please follow me." She tucked her chin and guided me to the back hall.
"Don't feel bad, please. There were a lot of people out there. It could've been any one of us, really." I tried to keep up with her pace. Her feet might've been ballerina small, but they moved pretty quickly.
She turned slightly and slowed her pace. "It's just that I thought…I thought…they said to come and get… You know what, never mind. Just follow me."
Okay, so now I needed to know who I was referred as to go and get. I'm pretty sure I heard Patrick announce me by name. What was code for Sarah?
I reached out and touched her sleeve. "I'm Sarah. And you are?"
She turned and stopped before we made it to the first doorway. "I'm Erin."
Her small smile spread an inch and a half wide. She would be easy to crack. I had such a problem with not leaving something alone that really bugged me. And when she came to get me, I could tell she wasn't expecting who she saw.
"So, who exactly did they tell you to go and get?"
She bit her lip and turned to walk. I two-stepped to catch up. "I'm just curious. No big deal, really. I know—did they say I was Sam's mother or something and you thought I'd be older?" Crap, I think his mother is deceased.
Well, that's something I've never been called. "Who then? Who were you expecting?"
Julieann Dove

lives in Virginia, yet longs to live everywhere else. It doesn't come as a surprise that along with her gypsy soul, comes an active imagination. That's why she loves to write and invent worlds and people, so that she can formulate their happily ever after. Hobbies include cooking new recipes, sewing, and spending time with her cute boyfriend/husband and five fabulous children. Vacations happen in Nantucket or the Carolina beaches—anywhere there is inspiration for her next book. One day she hopes to travel to Italy, drive one of those little cars around the countryside, and speak the language fluently!
Other Books by the Author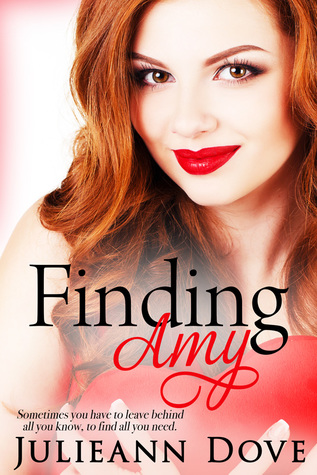 - 1 winner will receive a signed copy of Waking Amy (US only)
- 1 winner will receive an ebook of Waking Amy (open internationally)