📚 💗 HOT NEW RELEASE 📚💗
Confessions of a Bookaholic by Joslyn Westbrook is LIVE! Don't miss this whirlwind slow-burn, friends-to-lovers romance filled with laughter, angst, and enough steam to melt hearts. #One-click today!
BOOK BLURB
What happens when a book blogger accidentally publishes her digital diary online?
A viral
shitstorm
, that's what.
No way did I want thousands of subscribers to read my confessions—yet, that's precisely what went down last night after four too many Cosmos with my girls.
Now, Damage Control is my new middle name because my diary confessional has my roommate, Lucas Stone, written all over it.
Literally.
I've been in love with him forever—well, ever since I saw him sprint across campus naked during our first year of college.
And now that Lucas knows how I feel about him?
Well, things are destined to get awkward.
Because Lucas Stone, my BFF—the man who sleeps only one room over—just got engaged.
And his fiancée isn't me
.
PURCHASE LINKS
Add to your Goodreads
Review:
5 Stars
I love a good friends to lovers story. Luke and Macy had me hooked right from the beginning of this one. I so loved the humor. This book had me laughing from start to finish. I could hardly put this book down. Luke has so many swoon worthy moments and Macy is right he is book boyfriend material for sure. What should 've one of Macy's most embarrassing moments of her life may just be the best mistake she's ever made. Make sure you start this early enough in the day because trust me a book hangover will be in your future otherwise. I would highly recommend this one. It's packed full of humor, but also heart and feels. It's definitely a make you feel good romance.
GIVEAWAY
To celebrate the release of Confessions of a Bookaholic, Joslyn Westbrook is giving away a $25 Amazon gift card! Head to her Facebook page to enter:
https://www.facebook.com/JoslynWestbrookOfficial
TEASERS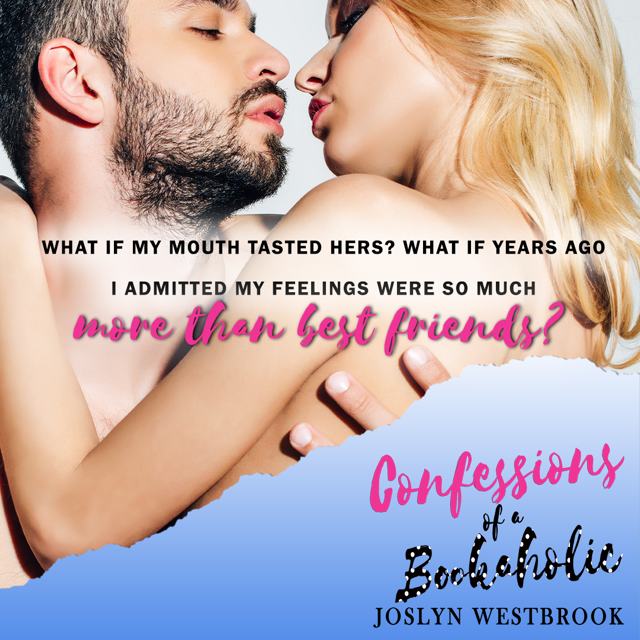 ABOUT THE AUTHOR
Wife. Mom. Foodie. Fashion Junkie. Rom-Com Lover. Author of sexy rom-coms and feel-good contemporary romance, Joslyn Westbrook's novels feature sweep-you-off-your-feet heroes and the sassy, classy, badassy heroines who can't seem to breath without them. When she's not writing, Joslyn can be found binge-watching Netflix, cooking, shopping, and spending time with her husband and children at home in sunny California.
AUTHOR LINKS